Welcome to the Gato Inn in Puerto Vallarta.   —  Bienvenido a la Posada Gato Inn en Puerto Vallarta.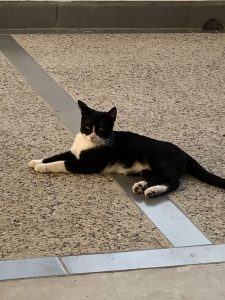 The Gato Inn is a safe and secure place for homeless cats found wandering the streets of Puerto Vallarta.  It is a large, enclosed rooftop area designed specifically for cats and their needs.  We offer boarding services for your cat when you are traveling or for other reasons.  Many of our cats are available for adoption.  All of our cats are spayed or neutered.  It is expensive to maintain this facility and we welcome donations!
Gato Inn es un lugar seguro  para los gatos sin hogar encontrados vagando por las calles de Puerto Vallarta. Es una amplia área, en la  azotea cerrada y diseñada específicamente para gatos y sus necesidades. Ofrecemos servicios de hospedaje para su gato cuando viaja o por otras razones. Muchos de nuestros gatos están disponibles para su adopción. Todos nuestros gatos están esterilizados. ¡ Es costoso mantener esta facilidad y damos la bienvenida a donaciones!
Boarding
The Gato Inn is a great place to keep your cat or cats while you are away.  Your cat must be spayed or neutered.  The cost is $120 pesos per day.  Your cat will be safe and happy.  It is a large, clean environment.  Click here to make a reservation.
El Gato Inn es un gran lugar para mantener a su gato o gatos mientras usted está ausente. Su gato debe estar esterilizado. El costo es de $120 pesos por día. Su gato estará seguro y feliz. Es un ambiente grande y limpio. Haga clic aquí para hacer una reserva.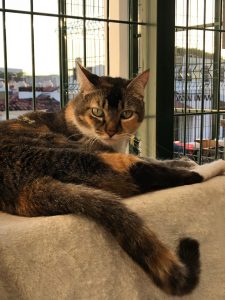 Adoption
Many of our cats are available for adoption.  Most of them are friendly and do well with dogs and other pets.  It would be awesome if you could provide a permanent home for one or two of these great cats!  Click here to inquire about adopting.
Muchos de nuestros gatos están disponibles para la adopción. La mayoría de ellos son amigables  con los perros y otras mascotas. Sería increíble si usted podría proporcionar un hogar permanente para uno o dos de estos grandes gatos! Haga clic aquí para preguntar sobre la adopción.
Donations
It is expensive to operate the Gato Inn and care for these beautiful animals.  We are not for profit.  Luz had to take out a construction loan to add on this space to the roof of her house.  There are expenses for veterinary care and ongoing food expense and sand for the litter boxes.  It never ends.  It would be wonderful if you could help.  Click here to make a donation.
Es costoso operar el Gato Inn y cuidar de estos hermosos animales. No tenemos fines lucrativos. Luz tuvo que sacar un préstamo de construcción para agregar en este espacio al techo de su casa. Hay gastos de veterinario, gastos continuos de alimentos y arena.  Esto nunca termina. Sería maravilloso si pudieras ayudar. Haga clic aquí para hacer una donación.
Support – la ayuda
This website is brand new, just like the Gato Inn.  We are just getting started and we know that we need to provide you with more detail and information.  We are working on this everyday.  So check back here often to see what's new!  Questions or comments?  Click here to message us.
Este sitio web es completamente nuevo, al igual que el Gato Inn. Acabamos de empezar y sabemos que necesitamos proporcionarle más detalles e información. Estamos trabajando en esto todos los días. Así que revise aquí a menudo para ver lo que es nuevo! ¿Preguntas o comentarios? Haga clic aquí para enviarnos un mensaje.